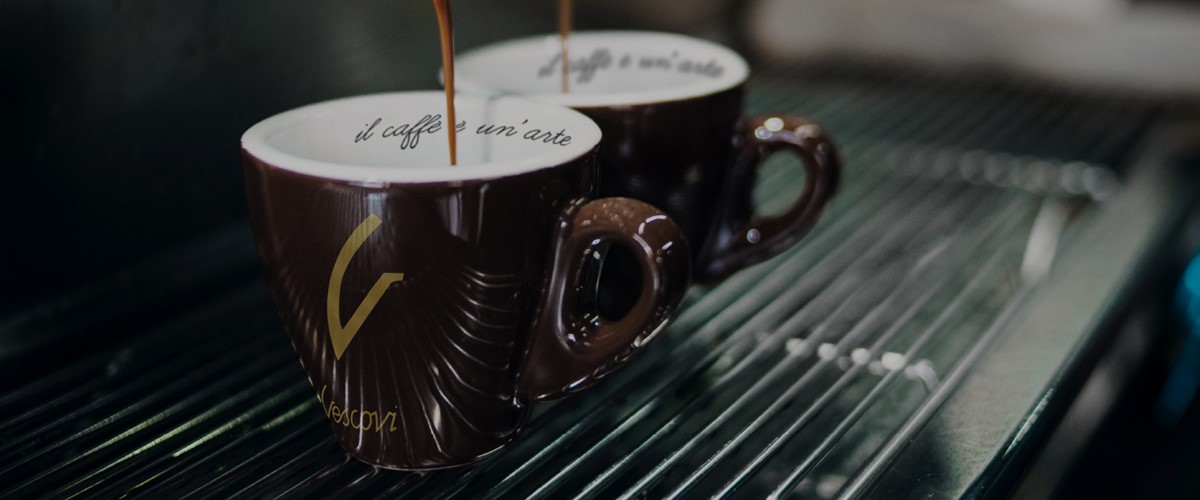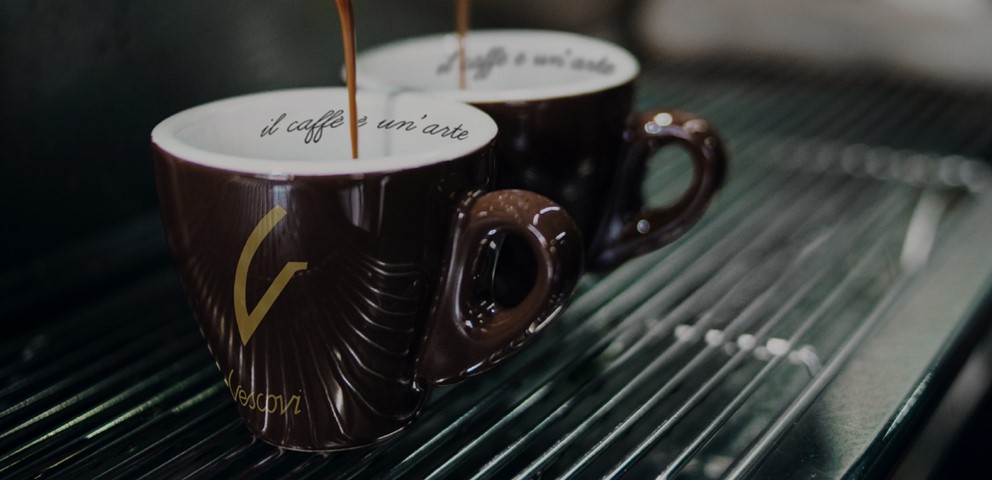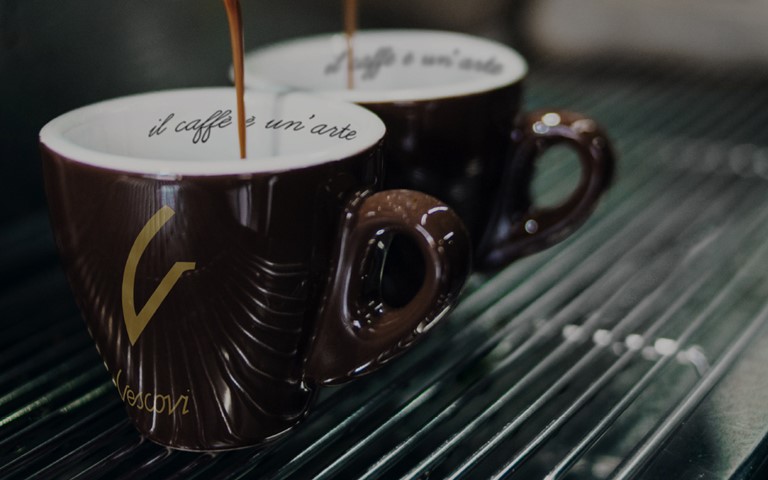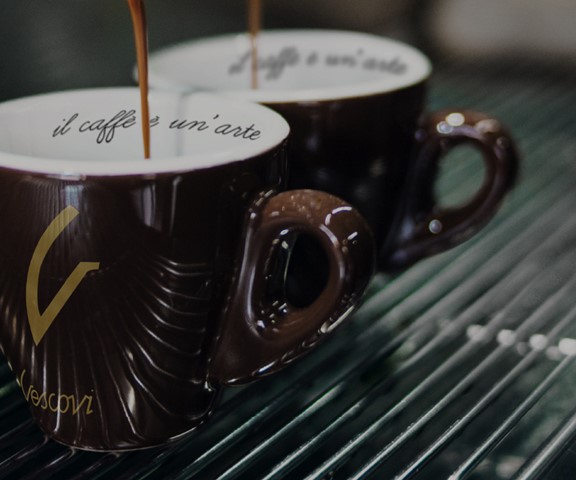 BLEND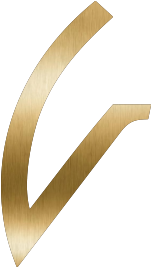 A CONTINUOUS SEARCH FOR HARMONY
Coffee is a natural and perishable product, subject to the vicissitudes of the weather; therefore, no two harvests are ever the same.
In order to ensure absolute constancy of quality over time, we continually reset the parameters of our blends, reconstructing the unmistakable aroma of our coffees at each harvest.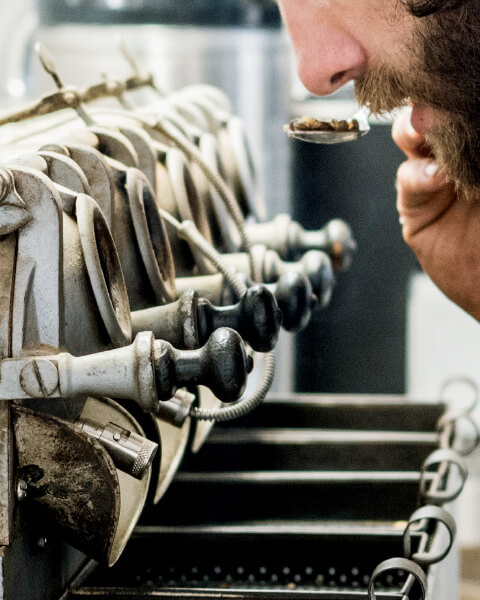 Each of our blends is the product of an immense sensory universe in which we use our experience and our passion to select the best ingredients, giving shape to our unique and unmistakable aromatic profile. We want each of our coffees to tell a story of taste in which aromas from distant lands blend with know-how derived from more than ninety years of history.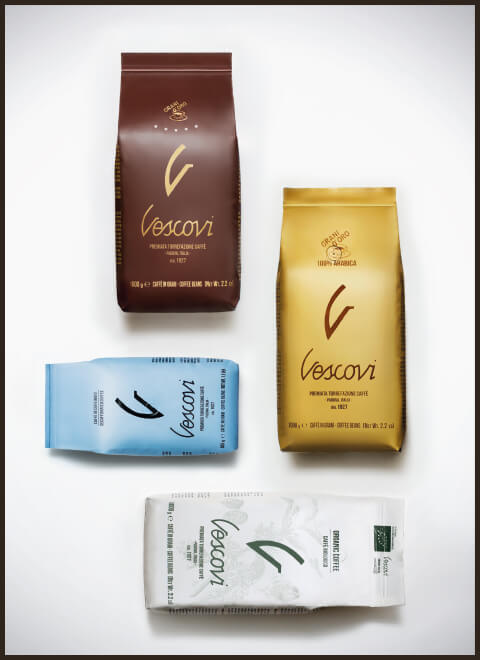 OUR BLENDS
DOPO OGNI RACCOLTO, RIPARAMETRIAMO LE NOSTRE MISCELE PER MANTENERE COSTANTE IL LORO PROFILO AROMATICO: PER FARLO
UTILIZZIAMO LO STRUMENTO SENSORIALE PIÙ EFFICACE CHE ESISTA: L'UOMO.
DECLINIAMO L'INCONFONDIBILE QUALITÀ VESCOVI IN OGNI NOSTRO PRODOTTO:
DAL CAFFÈ IN GRANI PER I MIGLIORI BAR E LOCALI, ALLE VARIETÀ MACINATE DA PREPARARE E GUSTARE A CASA PROPRIA.
Coffee beans
GRANI D'ORO 100% ARABICA 1000g
This blend arises from a careful selection of fine Brazilian milds, as well as fragrant Central American and Caribbean Arabica beans. Guatemalan beans cultivated in the Huehuetenango district between 1500 and 2000 metres above sea level play a prominent role in its sensory profile. Tasters consider the coffee produced here one of the noblest full body Guatemalan coffees given its refined and intense flavour. This blend is lively and refined in the cup, while the soft acidity is reminiscent of pure cocoa and the aroma hints at hazelnut and toasted bread with notes of candied citrus.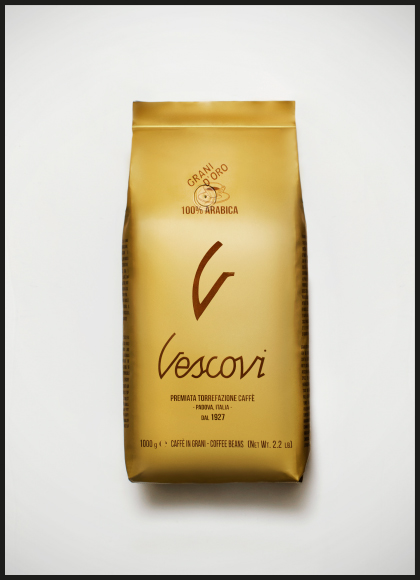 GRANI D'ORO FIVE STARS 1000g
This Arabica blend originates from the Brazilian highlands and Central America. It comes with a touch of Robusta India Parchment Kaapi Royale grown at altitudes between 800 and 1200 metres near the mountains of Karnataka, where we find the ideal combination of soil, rain, sun and shade. The Kaapi Royale accentuates the aromas of Arabica and helps to create the crema, the main feature of a high-quality espresso. In the cup it is like refined dark chocolate with scents of gianduja and hazelnut, which is especially appreciated when enjoying an excellent cappuccino.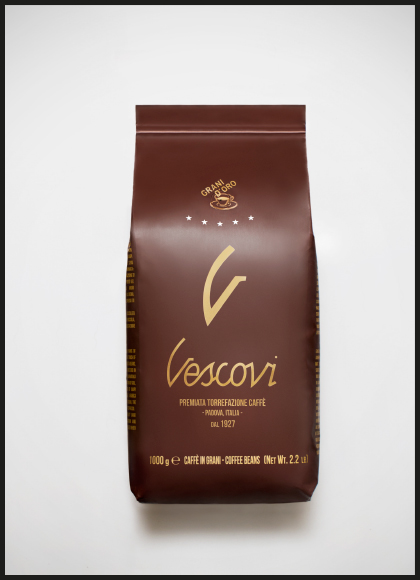 VESCOVI ORGANIC COFFEE 1000g
This blend of organic coffees is grown in the shade of the tropical forest and is matured slowly to create uniquely complex aromas, for a surprising sensory experience. Choosing ORGANIC products is way of expressing a desire to take better care of our health and ourselves. Only natural substances go into the cultivation of the coffees used in the 100% natural organic blend; indeed, we ban pesticides, herbicides and synthetic chemical products, thus helping to maintain the balance of ecosystems over time and to promote local culture and traditions.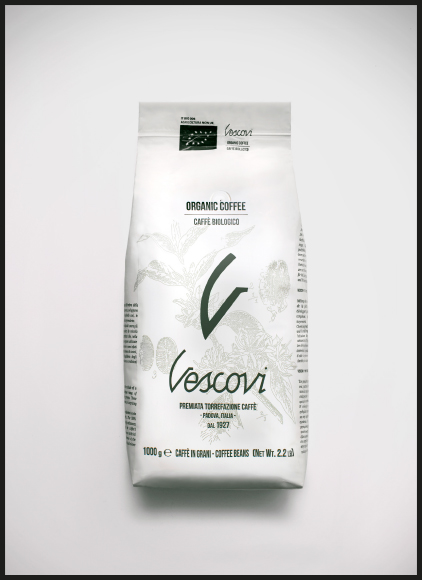 VESCOVI DECAFFEINATO 500g
This calibrated blend of decaffeinated Arabica and Robusta produces an espresso with a rich aroma and intense taste that can be enjoyed at any time of day.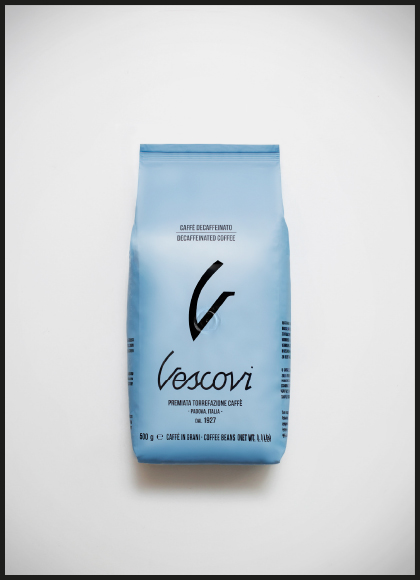 Ground coffee
100% ARABICA 250g
Brazil Alta Mogiana, the fine Arabica Colombia Huila and Guatemala Huehuetenango are combined with spicy India Plantation to obtain a superior blend. The result in the cup is very aromatic, with hints of chocolate and cedar and fruity notes, further expressed by a full body and pleasantly persistent spicy after-taste.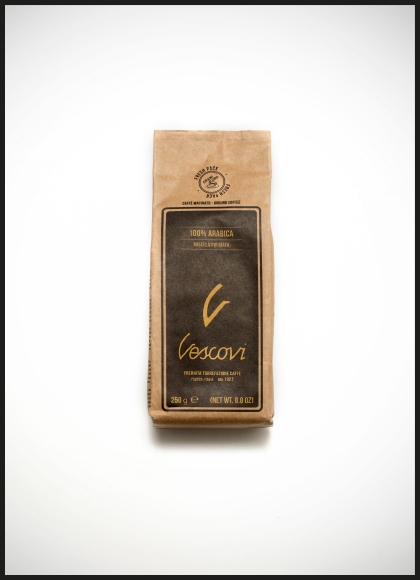 MOKA CREMA 250g
This balanced blend of Santos Cerrado Brazilian Arabica coffees, Arabica India Plantation and Robusta India Parchment can be used with a moka, a filter system or a French press. The result is a coffee with an intense aroma, a sweet taste and pleasant spicy notes accompanied by hints of dark chocolate.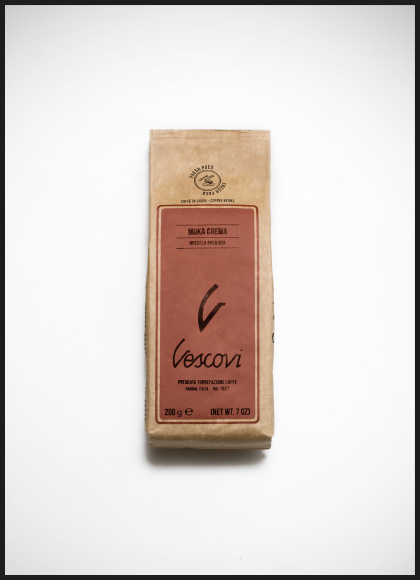 ESPRESSO INTENSO 250g
Slow roasting brings out the fragrances of the best quality Arabica Brazil Alta Mogiana and premium Indian Arabicas. A touch of Robusta India Parchment enhances the character and the aromatic notes are best expressed when made in an espresso machine.